There are times I wonder why I do it. Standing for hours in the queue at a remote train station in the depths of rural Somerset hauling what feels like the unfortunate result of an unseemly encounter between Jabba the Hutt and Dibley's eponymous vicar on my back. Waking up to the sound of thunder and pouring rain, unzipping my tent and squelching through the mud to long-drop bogs of eternal stench that have made few advances since the Middle Ages. Crawling back to my tent at 7am, partied out and hoping to get a few hours kip only to be roasted (barely) alive in my little canvas oven by a resurgent sun. This year was my seventh Glastonbury in a row and there are times I wonder why I do it. But those times are few and far between.
When Neil Young hit the Pyramid stage on Friday night with Hey Hey, My My opening a set crammed with classics, I knew exactly why I was still rocking in the free world. He was fat, balding and anything but young, but despite his refusal to burn out like so many of his generation, his performance showed he was far from fading away. Singing along to the greatest hits of this great artist, I knew this was a once-in-a-lifetime gig. Closing with a Beatles cover, Young summed up the spirit of this year's festival.
This really was a year for legends and, for me, probably the best line-up I've seen in seven years. Shielding my eyes from the sun in a crowd filled with as many young people as ageing hippies, I watched David Crosby, Stephen Stills and Graham Nash crooning their classics and could have been at Woodstock. I have to admit, I've never followed Bruce Springsteen that closely, but by every objective measure, he gave a truly awe inspiring performance. A more charismatic, energetic and gifted presence would be hard to imagine, and I've seen a hell of a lot of bands grace that big Pyramid over the years. The crowd were clearly disappointed Springsteen chose to leave Born in the USA off the setlist (as apparently he often does) even after two-and-a-half hours and two encores, but I was more than happy with a close on my personal favourite – Dancing in the Dark.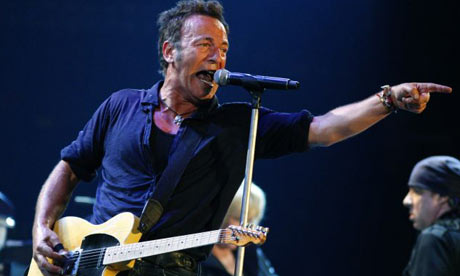 Between singing along to Status Quo and skanking to Madness, there were plenty of fresher faces at this year's festival. Listening to Lily Allen is a bit like watching Big Brother. It's a guilty pleasure. You want to hate her. You want to find her mind numbingly shallow. But there's a part of you that thinks she's kind of fun. I've done some work on series two and three of Katy Brand's Big Ass Show, which contains a sketch of Lily Allen doing something utterly irrelevant. It's pretty close to the truth, but, sad to say, I couldn't help enjoying myself. Dizzee Rascal going bonkers, however, left me fairly numb. I'm not one of those people who grumble about rappers at Glastonbury. I think it was great that Jay Zed headlined last year. It's wonderful to have that kind of variety at the festival. Something for everyone. I didn't like his music, so I went to see Massive Attack instead. That was my choice, and by the same token, it was my choice to walk out on Dizzee Rascal in search of some good old skool hippy tunes. Innit. Bruv.
They were gloriously represented by Roger McGuinn – de facto leader of my favourite 60's psychedelic folk-rock group, The Byrds – and his jingly jangly twelve string guitar. Listening to all those Bob Dylan songs wonderfully recreated in Beatles-era pop sounds mixed in with the best of The Byrds' own back pages, I didn't have to feel guilty I was missing the first half of Blur. I arrived at the Pyramid stage just in time to see Jimmy the Mod/Kevin from EastEnders take the mic from Damon Albarn to tell us all about what is known as PARK LIFE! Blur closed a fantastic festival in fantastic style. Six years sitting on the shelf didn't seem to dent their energy as they belted out their greatest hits. And perhaps that was the real spirit of this year's festival. Glastonbury's greatest hits! There'll always be old timers who complain it ain't what it used to be. That Glastonbury is now a pit of commercialised Babylonian capitalism. Certainly I object to paying £3.70 for a pint of beer or close to six quid for a veggie burger with some soya shit that's almost, but not quite, entirely unlike cheese. And the emergence of t-shirts by the last day saying 'I was at Glastonbury when Michael Jackson died' was frankly baffling. But wandering round the Green Fields, listening to punk poets and lefty speakers, looking at visions of the future in solar powered showers and stinking heaps of compost, joining the fires and the bongos at the Stone Circle at night, I know exactly why I do it. And why I'll do it all again next year.