Conservative party treasurer Lord Fink is lobbying George Osborne to make the UK more like a tax haven so that hedge fund owners like himself no longer feel they have to set up subsidiaries in tax havens where vast profits can be squirreled away untouched by the British government.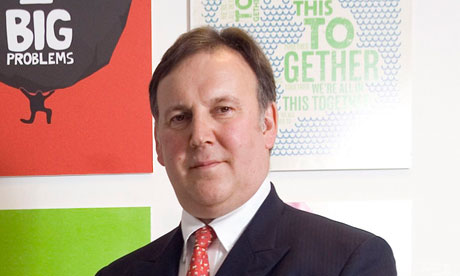 The same British government that is cutting services for the poorest and taxes on the richest. Perhaps if Lord Fink thought for a second about his responsibilities as a citizen of this country, a member of its government, and the moral obligations that entails, he would not feel he had to hide his money on a tropical island on the other side of the Atlantic to dodge the taxes the rest of us have to pay.
Most outrageously of all, however, he is dressing up his greed in the cloak of national interest and job creation.
"I don't see why the UK should not compete for jobs that at present are going to the Cayman Islands," Fink said in an interview. "I lobbied George Osborne when the Tories were in opposition. I have long felt that the British government loses jobs to tax havens by allowing the Revenue to have these rather archaic rules."
I'm not sure what jobs Fink is talking about here unless he means the brass plate construction industry because they are about the only things that actually exist on these tropical islands.
According to the 2010 census, there are around 54,000 people living on the Cayman Islands, while there were more than 93,000 registered companies in 2008. Unless all these people are working for multiple banks, hedge funds and insurers all at once, I can't really see where these "jobs" which are supposedly moving from Britain are going. It's quite clear that little economic activity actually happens in these entities, they simply exist to hide money. But then again, I suppose, tax avoidance is a massive industry in itself.
As a seasoned user of tax havens, Fink's comments can't be put down to ignorance. They can only be attributed to exactly the kind of polarising greed that is lightening the pockets of Britain's poorest and loosening the belts of its richest.
Cracking down on tax havens and abusers like Fink won't put an end to that greed or the inequalities inherent to the capitalist system. But it can be used to halt the ideological assault this government is waging against society's most vulnerable.